The Corn Capital of the Philippines, the Capital of the Province of Isabela, is the largest component city in the Philippines and the safest place to conduct a sports event.
The City of Ilagan was hailed as the BEST EVENT HOSTING (Local / International) during the 17th Association of Tourism Officers of the Philippines (ATOP) Pearl Awards Ceremony held last October 27, 2022, at Tagaytay City, Province of Cavite.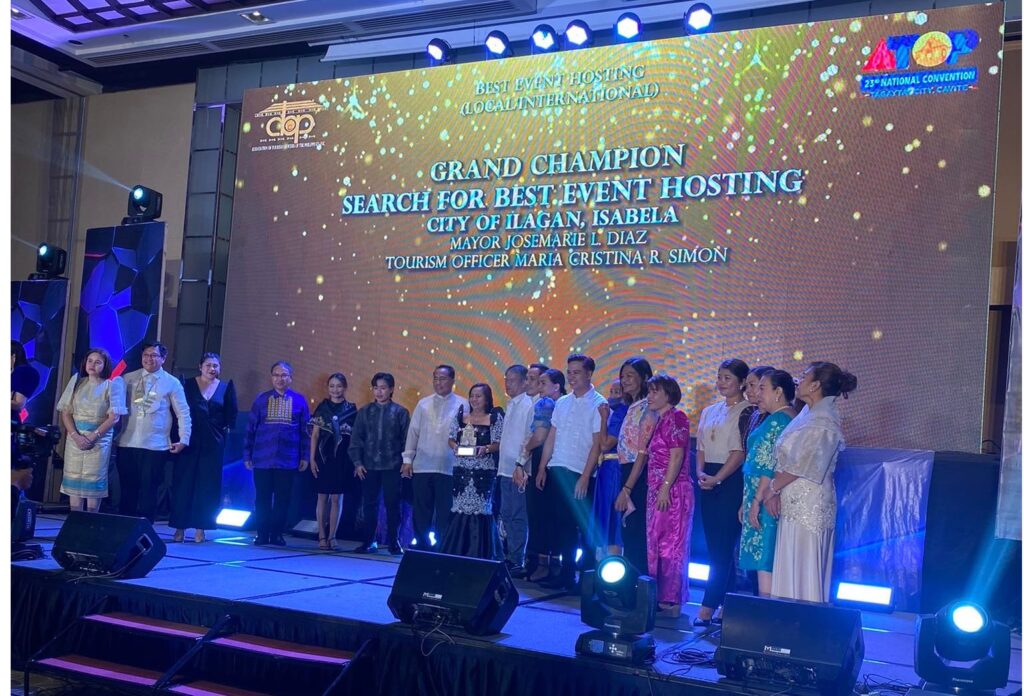 The City of Ilagan Sports Complex is a sports facility complex situated in Ilagan City, Isabela, Philippines. It was formerly called as Paguirigan Memorial Athletic Stadium before the construction of the new modern sports facility. The groundbreaking of the facility was held in October 2014. It was constructed in preparation for the 2016 Cagayan Valley Regional Athletic Association (CAVRAA) sports tournament. The inauguration of the facility was held on November 23, 2015. The construction was funded by the city government of Ilagan.
It is the first and only Philippine sports complex in this decade to have an International Association of Athletics Federations (IAAF) certified track and field competition venue.
City of Ilagan Sports Complex situated within the heart of the City
We hosted the following events
| DATE/YEAR | NAME OF EVENTS | ORGANIZER | CATEGORY |
| --- | --- | --- | --- |
| February 18-19, 2023 | 2023 City of Ilagan Athletic Association Meet | DepEd/ LGU Ilagan | Local |
| February 5-12, 2023 | 2023 Little League Philippines Series (North Luzon, South Luzon & NCR Regionals) | DepEd/ Little League Philippines/ LGU Ilagan | Regional |
| November 28, 2022-December 3, 2022 | 1st JLD Open Invitational Baseball Tournament 2022 | LGU Ilagan | Local |
| September 27-October 1, 2022 | LGU Ilagan Sportsfest 2022 | LGU Ilagan | Local |
| May 23-29, 2022 | Philta National Youth Tennis Circuit 2022, Little League North Luzon baseball championship | LGU Ilagan | National |
| Mach 10, 2020 | National Festival of Talent (NFOT) | DepED | National |
| March 2-6, 2020 | 10th Inter-Regional Sportsfest for Luzon | COA | Regional |
| September 2019 | LGU Ilagan Sportsfest 2019 | LGU Ilagan | Local |
| April 2019 | Cagayan Valley Athletics Association Meet (CAVRAA) Cluster 3 | DepED | Regional |
| March 17-23, 2019 | Batang Pinoy Luzon Qualifying Leg 2019 | PSC | National |
| March 6-8, 2019 | 2019 Ayala Philippine Athletics Championship (APAC) | APAC | National |
| March 2-3, 2019 | 14th SEA Youth Athletics Championship | PATAFA | International |
| May 31-June 4, 2018 | 2018 Ayala Philippine Athletics Championship (APAC) | APAC | National |
| March 24, 2018 | All Women Zumba Aero Exercises | LGU Ilagan | Local |
| March 30-April 2, 2017 | The Philippine National Open Invitational Athletics Championship | PATAFA | National |
| March 27-28, 2017 | 12th SEA Youth Athletics Championship | PATAFA | International |
| February 22-28, 2017 | Cagayan Valley Athletics Association Meet (CAVRAA) | DepED | Regional |
| February 24-29, 2016 | Cagayan Valley Athletics Association Meet (CAVRAA) | DepED | Regional |